DC Baseball Trip
May 30 – June 1
4 hr. drive to hotel
Itinerary
Friday
8:30am – Meet at Kyle's house: 100 Old Lowery Ct, Raleigh, NC 27614
11am – Donuts & coffee at Country Style Donuts?
2:30pm – Arrive at Hotel Helix
3 – 5pm: Michael pretends to work
8pm – Doors open for Channels show at Rock N Roll Hotel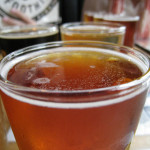 Saturday
12:05pm – Nationals game
VA Food
Country Style Doughnuts
4300 Williamsburg Rd, Richmond, VA 23231
DONUTS
Buzz & Ned's Real Barbecue
1119 N Blvd, Richmond, VA 23230
BBQ place we've stopped at before
DC Lodging
Hotel Helix
1430 Rhode Island Avenue NW
Washington, DC 20005
DC Food
Churchkey (50 on tap, 5 cask, 500 bottles)
1337 14th St NW, Washington, DC (near hotel)
LOTS of beer. The most.
Fancy bar food: homemade tater tots!
Toki Underground (near Hotel Rock N Roll)
1234 H St NE, Washington, DC
First class ramen noodles; veggie option, too; 1 hour wait likely, but plenty of bars around to kill time
Is above "The Pug" bar, and next door is Atlas Arcade (games & bar)
Dinner hours: 5pm – 12am
GBD Chicken and Doughnuts
1323 Connecticut Ave NW, Washington, DC
Hours Fri & Sat: 4:30p – 2am
Brunch Sat & Sun: 10am – 3pm
HOGO (Fancy diner and Tiki bar)
1017 7th St NW, Washington, DC
Hours: 5pm – 2:30am (closed Sun)
Bub and Pop's
1815 M St NW, Washington, DC
Hoagies! Italian, roast pork. Reviews recommend the beef brisket.
Hours: Fri 11am – 7pm, Sat 12pm – 7pm
The Pig
320 14th St. NW (on same block as hotel)
Pork, pork, and pork. Bacon, sausage, ribs, tongue, porchetta, boar, bratwurst. And a hamburger. Also smoked tofu.
Lots of bourbon and craft cocktails
Happy Hour from 3pm – 7pm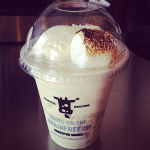 Good Stuff Eatery
303 Pennsylvania Ave SE, Washington, DC
Burgers, fries, and shakes
Toasted marshmallow shake!!!
Far away — 2.4 miles as crow flies
Astro Donuts and Fried Chicken
1308 G St NW, Washington, DC
Hours: 9am – 3pm Sat & Sun
Comet Ping Pong (semi-fancy pizza)
5037 Conn. Ave NW, Washington, DC
Ping pong tables to entertain you while you wait for a table
Popular and crowded
Far away from hotel (~4 miles as crow flies)
Thai Tanic
1326 14th St NW, Ste A, Washington, DC 20005
Thai food VERY close to hotel. Perhaps not so good, though. If we want Thai we should ask locals for recommendations.
DC Drink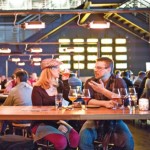 Bluejacket
300 Tingey St SE, Washington, DC
Taproom/brewpub
Hours: 11am – 2pm Fri & Sat
Bier Baron Tavern (40 on tap, has bar food)
1523 22nd St NW
May 30: Blue Mountain Beer event (a VA brewery)
Churchkey (50 on tap, 5 cask, 500 bottles)
1337 14th St NW, Washington, DC (near hotel)
LOTS of beer
Some fancied-up bar food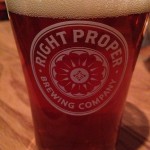 Right Proper Brewing Company
624 T St NW, Washington, DC
Brewery with food
Hours: Fri 5pm – 12am; Sat 11:30am – 12am
Garden District (beer garden & bbq)
1740 14th St NW, Washington, DC
Outdoor beer garden + BBQ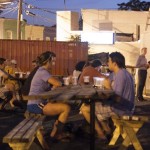 Bardo
1200 Bladensburg Rd NE, Washington, DC
HUGE beer garden, brew their own beer (about 20 of them)
No food, about 3 miles away
Bier Baron Tavern (40 on tap, has bar food)
1523 22nd St NW
May 30: Blue Mountain Beer event (a VA brewery)
Boundary Stone (whiskey bar)
116 Rhode Island Ave NW, Washington, DC
Drink: Over 120 whiskeys
Food: heavy apps, like seitan hot wings
Babinga Bar (AKA Gin Joint)
2317 Calvert St NW, Washington, DC 20008
Gin. Lots of gin. And house made tonics served by a talented bartender.
Far away from hotel — 1.5 miles as crow flies
HOGO (Fancy diner and Tiki bar)
1017 7th St NW, Washington, DC
Madam's Organ
2461 18th St NW, Washington, DC
DC Attractions
Rock N Roll Hotel
1353 H Street N.E, Washington, DC
Nationals Park
1500 South Capitol St., SE
Washington, DC 20003
International Spy Museum
800 F St NW, Washington, DC 20004
Hours: 9am – 7pm
Expect long lines — hour long wait most likely